<![if !supportEmptyParas]> <![endif]>
This new, hybrid strategy may become even more important--and more popular--as global competition increases. Compared to companies relying on a single generic strategy, companies that integrate the generic strategies may position themselves to improve their ability to adapt quickly to environmental changes and learn new skills and technologies. This would more effectively leverage core competencies across business units and product lines and would also help produce products with differentiated features or characteristics that customers value and provide these differentiated products at a low cost, compared to competitors' products.
<![if !supportEmptyParas]> <![endif]>
This is because of the multiple, additive benefits of successfully pursuing the cost leadership and differentiation strategies simultaneously. Differentiation enables the company to charge premium prices and Cost leadership enables the company to charge the lowest competitive price. Thus, the company is able to achieve a competitive advantage by delivering value to customers based on both product features and low price.
<![if !supportEmptyParas]> <![endif]>
Products available from companies following an integrated cost leadership/ differentiation strategy are less differentiated than products offered by differentiators, and costs are not as low as those of the low-cost leader (that produces standardised products).
<![if !supportEmptyParas]> <![endif]>
<![if !supportEmptyParas]> <![endif]>
<![if !vml]>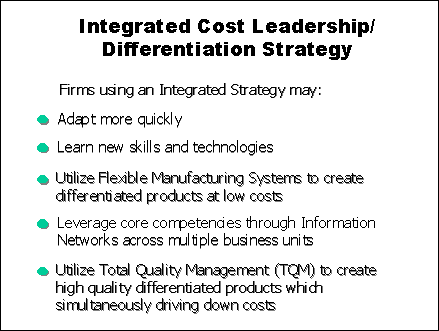 <![endif]>
<![if !supportEmptyParas]> <![endif]>
Figure: Integrative Cost Leadership/ Differentiation Strategies
<![if !supportEmptyParas]> <![endif]>
A variety of other factors also may enable companies to gain a competitive advantage and earn above-average returns from an integrated cost leadership/differentiation strategy.
<![if !supportEmptyParas]> <![endif]>
Flexible Manufacturing Systems

A flexible manufacturing system is a computer-controlled process used to produce a variety of products in moderate, flexible quantities.

It enables companies to achieve the flexibility necessary to simultaneously respond to changes in customer needs and preferences while maintaining the low-cost advantages of large-scale manufacturing.

This increases a company's ability to engage in an integrated low-cost/ differentiation strategy.
<![if !supportEmptyParas]> <![endif]>
Information Networks across Companies

Information networks enable a company to co-ordinate interdependencies between internally- and externally performed value-creating activities to increase flexibility and responsiveness. Examples include real-time linkages between manufacturers and suppliers or subcontractors, or between retailers and suppliers.

These linkages can improve time-to-market of new products by co-ordinating design and production activities and reduce out-of-stock occurrences by shortening the order-restock cycle.
<![if !supportEmptyParas]> <![endif]>
Total Quality Management Systems

These systems have been established to improve product quality (from a customer perspective) and to improve productivity in the performance of the internal value-creating activities.

Improving product quality focuses the attention of customers on product reliability, performance and utility, and enables the company to differentiate its products and charge higher prices, while lowering the costs of manufacturing and service.
<![if !supportEmptyParas]> <![endif]>
Key assumptions upon which total quality management (TQM) systems are based are as follows:
The costs of poor quality exceed the costs of developing processes that produce high quality products and services (in other words, it is less costly to do things right the first time).

Employees care about their work and will take the initiative to improve it (but, only if the company provides the resources, tools, and training necessary and management listens to their ideas).

Since companies are systems of highly interdependent parts, decision processes must be integrated and include participation from all affected functional areas.

Responsibility for effective TQM rests with top-level managers who must support TQM processes and appropriately design the company so that employees can function effectively.
<![if !supportEmptyParas]> <![endif]>
The risk facing the company that chooses to implement an integrated cost leadership/differentiation strategy is that it must simultaneously be capable of:
focusing on consistently reducing costs

adding differentiated features that customers value and for which they are willing to pay a higher price

avoiding becoming "stuck-in-the-middle" by failing to consistently pay attention to the competitive requirements of either or both generic strategies
<![if !supportEmptyParas]> <![endif]>
Being "stuck-in-the-middle" implies that the company will not be able to manage successfully the five competitive forces and will not achieve strategic competitiveness. In fact, these companies can only earn average profits when industry structure is favourable or when other companies in the industry also are "stuck-in-the-middle."
<![if !supportEmptyParas]> <![endif]>
Type of Feature

Low-Cost Leadership

Broad Differentiation

Best-Cost Provider

Focused Low-Cost and Focused Differentiation

Strategic target

A broad cross-section of the market.

A broad cross-section of the market.

Value-conscious buyers.

A narrow market niche where buyer needs and preferences are distinctively different from the rest of the market.

Basis of competitive advantage

Lower costs than competitors.

An ability to offer buyers something different from competitors.

Give customers more value for the money

Lower cost in serving the niche or an ability to offer niche buyers something customised to their requirements and tastes.

Product line

A good basic product with few frills (acceptable quality and limited selection).

Many product variations, wide selection, strong emphasis on the chosen differentiating features.

Good-to-excellent attributes, several-to-many upscale features.

Customised to fit the specialised needs of the target segment.

Production emphasis

A continuous search for cost reduction without sacrificing acceptable quality and essential features.

Invent ways to create value for buyers; strive for product superiority.

Incorporate upscale features and attributes at low cost.

Tailor-made for the niche.

Marketing emphasis

Try to make a virtue out of product features that lead to low cost.

Build in whatever features buyers are willing to pay for.

Charge a premium price to cover the extra costs of differentiating features.

Under price rival brands with comparable features.

Communicate the focuser's unique ability to satisfy the buyer's specialised requirements.

Sustaining the strategy

Economical prices/ good value.

All elements of strategy aim at contributing to a sustainable cost advantage – the key is to manage costs down, year after year, in every area of the business.

Communicate the points of difference in credible ways.

Stress constant improvement and use innovation to stay ahead of imitative competitors.

Concentrate on a few key-differentiating features; tout them to create a reputation and brand image.

Unique expertise in managing costs down and product/ service calibre up simultaneously.

Remain totally dedicated to serving the niche better than other competitors; don't blunt the company's image and efforts by entering other segments or adding other product categories to widen market appeal.
Table : Distinctive Features of the Generic Competitive Strategies
<![if !supportEmptyParas]> <![endif]>
<![if !supportEmptyParas]> <![endif]>